Ukrainian Kerchief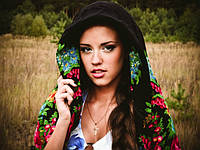 Ukrainians practical accessory!
Ukrainian kerchief is the most beautiful national adornment. It can tell us about ukrainian culture, traditions and customs. It will protect not only your head from strong wind but your neck too. If you have too open neckline, you can cover it with a beautiful ukrainian kerchief. In the right moment to show it)
Earlier, after the wedding girls never leave the kerchief for a minute. Head must always be covered with a kerchief. Thanks to the accessory on the beauty's head you can find out what region she is from, her status and taste. Even at that time there was a great variety to choose. Most of all girls liked the fairies. You could buy foreign accessories.
Very interesting fact is that ukrainian kerchief was used for face lift. All women dream about eternal youth and beauty. So they figured out different ways of tying the kerchief. You could not only hide the second chin but to smooth the wrinkles. Tight headband was painful but women ventured not only on such things to be beautiful.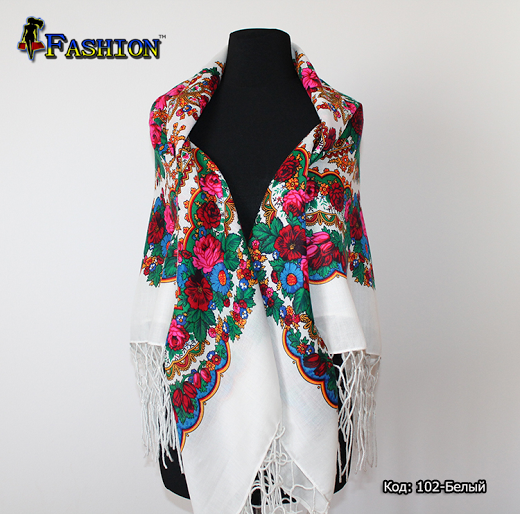 Modern national kerchiefs can be copies of the traditional ones or with some newness. Bright colours are in trend now. Fashionable women prefer ukrainian kerchiefs with a golden thread. Such accessory will change your look greatly. Lurex kerchiefs are very nice as they can shine on the light.
You can present such accessory not only for birthday. It is good for any holiday. Ukrainian kerchiefs are excellent presents for the relatives, acquaintances and colleagues. Particularly patriots will be glad for such presents. Fashionable women won't refuse from trend 2015! It's important to choose a nice colour and painted pattern.
Did you dare to buy a kerchief? Don't forget it is chosen not only to your clothes. It's important to know such details as person's colour of eyes and skin  you present with. They must be combined with the central painted pattern of a kerchief. It is also important to know person's favourite colours. You can buy the accessory decorated with a simple or delicate fringe.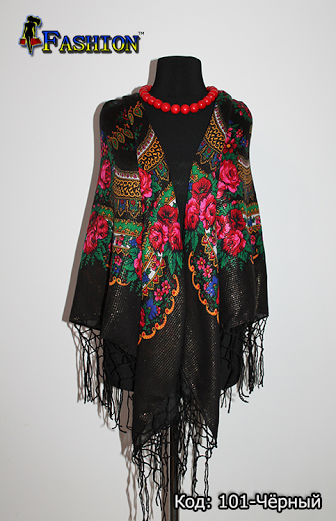 Ukrainian kerchiefs can be of different sizes. It should be taking into account while buying. As we would like to throw them over the shoulders, another  ones over the neck and the third ones to use instead of a belt. Small ukrainian kerchiefs with or without fringe are used for the sewing of national costumes.  Brighter dyes and more abundant pattern make the look more beautiful.
Lot of ukrainian designers use ukrainian kerchiefs' motives in their collections. They sew clothes, accessories and even shoes! The whole world started fascinating of the ukrainian culture. Lot of people want to know its traditions and customs. As the souvenirs they often buy kerchiefs. Agree, they are much better than a statuette that will be dusted.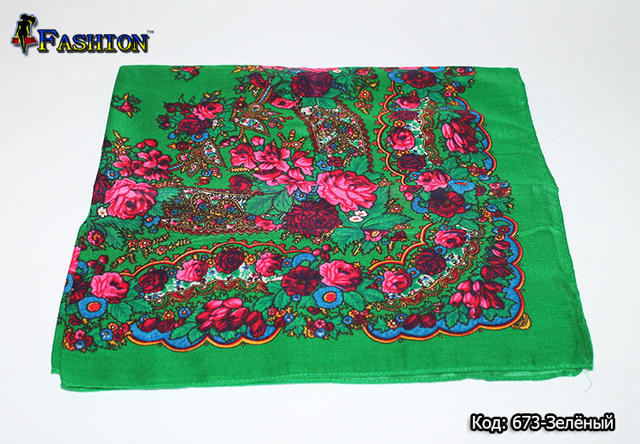 Where to buy a ukrainian kerchief? There is a great variety of stylish accessories in the internet — shop " Fashion". Even embroidered shirts are here at low price. You can easily buy a national ukrainian  kerchief or a modern satin one. They will make you happy not only with low prices but with high quality too. What about the variety of colours...it's just beauty!
Quickly order this practical accessory for yourself or as a present!!!